Messerschmitt Me.163B Komet
1:32 Meng Models
The Komet was a diminutive rocket-propelled point defence fighter that was designed to power up into the bomber stream and cut the incoming heavies to pieces with cannon fire.  In reality its short duration, volatile fuel and high speed differential between it and the lumbering bombers made that a little optimistic, and although it was an incredibly advanced little aircraft, it wasnt the wonder-weapon that Hitler was so fond of, and did little to turn the tide of devastation that the bombers left behind. More...
J7W1 Shin Den Super Wings Series
1:48 Zoukei-Mura Inc.
The Kyūshū Shin Den (which translates to Magnificent Lightning) was a result of an urgent requirement by the Imperial Japanese Navy for a point defence fighter to intercept the B-29s that were pounding the Japanese homeland on a daily basis.  A canard design was chosen, and it was coupled with the powerful Ha-43 engine from Mitsubishi, which drove a 6-blade pusher prop at the rear of the fuselage.  The design was successfully tested by the use of gliders, it was ordered into production before it had even flown. More...
Saab J29A/B Tunnan
1:72 Tarangus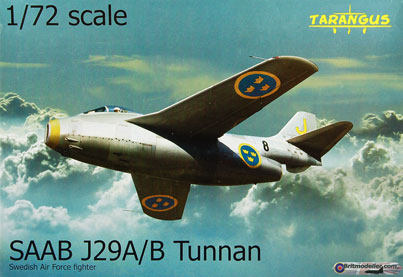 The Saab 29 Tunnan (barrel) was the second jet fighter to enter service with the Swedish Flygvapnet. It followed on from the Saab 21R, which was actually a jet-powered development of a piston-engined design. In common with other jet aircraft developed in the late 1940s, it was originally designed with a straight wing. However, by the time the prototype was in development, captured German research information was available and this convinced the Swedes to adopt a swept wing configuration instead. The Tunnan was powered by a licence built version of the De Havilland Ghost engine used in the British Venom fighter bomber and Comet airliner. More...
Breguet/Dornier Alpha Jet A/E
1:48 Kinetic
At the end of the 60s, with the SEPECAT Jaguar transformed into an attack aircraft, leaving the advanced jet trainer replacement unfulfilled, France and Germany began a collaboration to design a new trainer that was to become the Dassault/Dornier Alpha Jet, the Breguet part in the collaboration being absorbed by Dassault when they bought the company.  It flew late in 1973, and went into service with France in 1979 after extensive trials as the Alpha Jet E, fulfilling a similar role to the BAe Hawk in the RAF.  The Germans used the jet as a Light Attack aircraft with the A suffix appended, and limited export success brought the Alpha Jet to Francophile countries in Europe and Africa, with a number of ex-Luftwaffe aircraft finding their way to Thailand and Portugal.  Britian's defence company QinetiQ bought 6 ex-Luftwaffe aircraft, which occasionally make appearances at airshows. More...